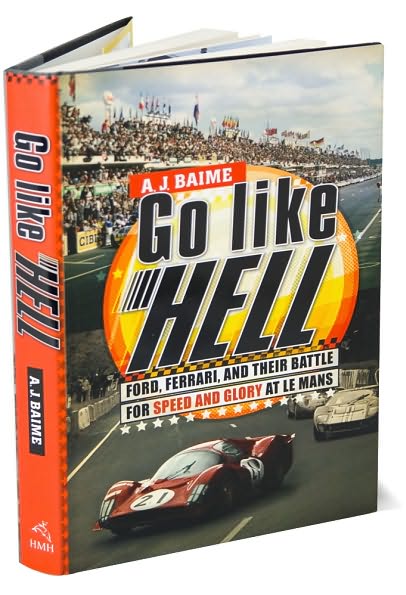 I posted this on the HAMB but thought I would throw it up on here also:
Well, like many of you I got my annual Christmas books...I usually get several books from family members and this years crop was really good.
1. The Complete Book of Shelby Automobiles: Shelby
It's not complete like the title and author claim, it leaves out Unique Performance and the continuation cars for those of you that care but it does have some good HAMB-interest/on topic stuff on the drag Shelby's. The Dodge era actually gets some coverage which is interesting for those of us the grew up in the 80's and remember those cars turning up in high school parking lots.
Good pics, a bit better than the average Shelby book, only slightly on HAMB topic.
2. Snake and Mongoose: How a Rivalry Changed Drag Racing Forever
Very cool book with lots of early drag history. When I was a kid I preferred the Mongoose more than the Snake for no good reason and I had the 70's Hot Wheels stuff from the height of their popularity (I was born in 67). Very good pics and insight into two of my favorite drag racers of all time. The part about the Mongooses son and Tom and Snakes "moment" after his death is touching (yes, I am being emotional here). I found the part about the Snake's time working for T.V. Tommy interesting, somehow that never really registered with me before and I never gave it any thought.
Excellent pics, fairly good read, very on topic for the HAMB.

3. We Were The RamChargers
Seeing more pics and reading more details about these guys is a treat. The little things I did not know were very interesting and the end of the book tells you about what became of all of them. These guys were very "experimental" as most of you know and it is cool to kind of begin to understand these guys beyond the basic coverage on them from back in the day. Tom Coddingtons Old's powered 34 Ford was neat to see a pic of and it showed that these guys were true hot rodders from the start. I have always loved Dyno Don and reading more on the Ramchargers vs. Dyno Don's Chevies was very cool. A much deserved book covering "The TEAM."
Excellent pics, great read, very on topic for the HAMB.
4. Go Like Hell: Ford, Ferrari, and their battles for speed and glory at Le Mans.
First off not really a HAMBers book but I don't care. I loved this book.
I have always loved early Ferrari's.
I have always loved Shelby stuff.
I love the GT40.
I love Le Mans and miss Speedvisions coverage of it (Speed is not the same as Speedvision)
I have always liked F1 more than Indy and NASCAR/
This books covers it all and is a great read. I really got into it. I never really got Enzo before this and I did not know the current man named Ferrari's "history." The part with Dino was very sad to read for any father.
The Deuce is another hard person to understand (like Enzo) but this book really makes you appreciate what he overcame and what his father Edsel could not.
Shelby is in it of course, and I love the guy.
The real stars of this book are John Surtees (Ferrari Pilot)and Ken Miles (GT40 Pilot). The stories of these guys are in a sense classic greek tragedies. Surtees being chipped away at by backstabbers and the golden ring being stolen from Miles' grasp by corporate decision. I always loved Miles and his GT40's color scheme, I love and respect him even more now.
Like most of you I love "American Graffiti."
I love the chase in "Bullitt."
I watch "Hollywood Knights," "Vanishing Point," "Two Lane Blacktop" (a movie about nothing in a way), "The Gumball Rally" and so on...but I really love "Grand Prix" and "Le Mans."
The end of "Go Like Hell" says it has been optioned as a movie and if done right it could be incredible.
Any car guy needs to check this book out.
Few pics, incredible read, incredible people giving everything to win. Not HAMB-erific but you should check it out if you are a car guy.

Anybody else get some of these or any other good books I can spend my gift certificates on?